Naked Ladies!
For the first time ever, I bought a copy of
Playboy
today. It's by no means the first one I've ever seen (the February '92 issue took care of that. Thanks for ending my childhood, Hef!), but it's the first porno mag that I've ever actually
bought
.
Now I'm no stranger to Mature Content, as evidenced by my mild crush on
Colleen Coover
, creator of
Small Favors
(the second-best porn comic ever made) and the upcoming all-ages
Banana Sunday
. In fact, you might even say I'm a fan. But brother, it's a whole different story when you walk into a retail establishment for the express purpose of buying pornography. Especially when said establishment is staffed by two lady-types that you were just talking about
Harry Potter
with the day before.
I've seen the people who come into MY store for the express purpose of buying pornography, and it's not a pretty sight. They're a uniquely disturbing breed, always way too quiet or way too loud, with odd facial hair and their squinty, soulless eyes sizing up the latest issue of Milk or, God forbid, Genus.
It's a sight I'll take to the grave, believe you me.
Fortunately, my main man Rob Lindsey was on hand to make the experience as painless as possible, or so I thought. See, the reason I wanted this particular skin mag in the first place is that it's the Star Wars issue.
Yes. The Star Wars issue.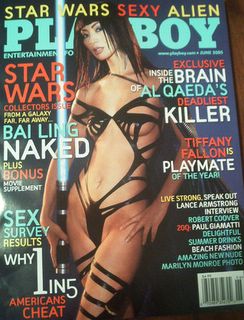 Click to Jedi-size it!

You can understand my twin layers of embarrassment on the subject. I actually went into a public place and said: "I want the Star Wars issue of Playboy, please." But I digress.
It first caught my eye on Sunday when I was out shopping with Mom for Mother's Day. I saw it behind the counter at the SMT Waldenbooks, and as we were walking out, I mentioned it.
"Huh. The Star Wars issue of Playboy. I want to get that."
"Oh," said Mom, "go ahead! I'll wait here."
I turned to her, eyebrows cocked. "Ma, there's no way I'm going to go buy porn when I'm out with my mother. On
Mother's Day
."
Mom shrugged. "Suit yourself." And that was that.
I thought about getting it yesterday when I went to the bookstore by the shop to order an
Eberron
novel, but the idea of completing the Fantasy/Sci-Fi/Porn trifecta was way too much for me. So I went back to day when Rob was working to bug him about it.
It was pretty involved. Before I could even ask about it, I had to get Rob out of the back room, which involved more people in my plan. I explained the sensitive nature of my request, which Rob repeated in the loud, sonorous tones he usually reserves for when he's playing a room with no mic. He grabbed me a copy and rang it up while Stephanie (who was wearing this awesome Gryffindor jersey when we'd talked the day previous) looked on. As I was paying, she walked over and said "You know, I can ring those up, too."
"Yeah," I said, "But I'm pretty sure I wouldn't know how to ask for it." Rob handed the mag back in a thin plastic bag. "Don't you have anything... browner? Like a plain paper wrapper?"
As far as the mag itself goes, it's pretty much standard fare. As a fan of naked girls, I've got to say it delivered on that front. It featured a Playmate of the Month, a Playmate of the Year, and Bai Ling, whom I've wanted to see naked since I caught her on a VH1 clip show. The 40 Most Awesomely Tiny Pants, or something.
Still, I actually find myself more interested in the articles--and with a ratio of 200 frigg'n pages of text pieces to like twelve of
the ladies
, I think that's bound to happen. I mean, there's the Star Wars article of course, but it's also got a Q&A with
Paul Giamatti
, an interview with tenacious bastard Lance Armstrong, and a profile of Khalid Sheikh Mohammed, the Al Qaeda mastermind who looks like TV's Horatio Sanz.
Fortunately, I can read sideways.